Dr Caroline Johnson has praised the collaboration between Lincolnshire's emergency services at the official opening of the new joint fire and ambulance building.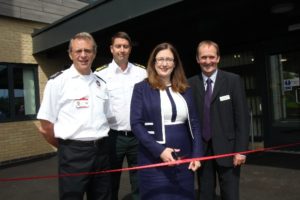 The MP for Sleaford and North Hykeham was invited to cut the ceremonial ribbon to mark the opening of the new joint facility at Eastgate in Sleaford.
The £6m purpose-built station has been constructed as part of the county's Blue Light collaboration programme set up between Lincolnshire County Council, Lincolnshire Police, Lincolnshire Fire and Rescue and EMAS.
At the official opening, Dr Caroline Johnson said: "It is a huge, huge honour and privilege to come and wield these scissors and open such a fantastic new facility that I know is going to make a huge difference to how you deliver services to people of Sleaford and the surrounding area.
"Ultimately it will save lives and make people's lives much, much better for the fact that you are able to get to them quicker and work together better going forwards."
The new building will provide a base for around 38 EMAS ambulance clinicians and 24 fire staff as well as provide a home for the county's Urban Search and Rescue (USAR) team. A range of Lincolnshire County Council services will also be based at the site, with staff moving in over the coming weeks.
Cllr Nick Worth, executive councillor for emergency services at the county council, said: "I am very happy to see the opening of a second joint station in Lincolnshire. This type of collaboration is so beneficial for the emergency services and therefore to the wider community.
"All of the old facilities were dated and would have required considerable investment to be modernised. This new building is excellent, and purpose-built for the needs of the crews.
"Co-locating services in this way helps us save money and allows us to build a better understanding of different ways of working and responding together with ambulance crews."
Richard Henderson, Chief Executive of EMAS added: "By working in partnership we can invest wisely and further develop initiatives which benefit the local communities.
"The benefits of partnership working can ultimately help save lives."